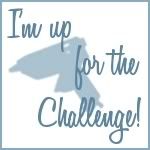 This is my project for Living With Lindsay's $5.00 Challenge. Wandering around the $ store I knew exactly what I wanted to make but couldn't find the most critical aspect, the shelf. Finally I went down the office supply aisle and the light dawned!
Here is how I spent my $5.00. 1 piece of foamboard, 2 decorative bunnies, 1 bag of moss, and 1 picture frame. I also used paint, glue, and a scrap piece of paper out of my stash.
First of all I cut a piece of foamboard to replace the cardboard in the frame. This I covered with a piece of scrapbook paper.
Then out of the foam board I cut two rectangles. Just shorter than the inside of the frame and just wide enough for the two bunnies to fit on.
I used hotglue to glue these two pieces of foamboard together. This strengthens your shelf considerably, the hotglue melts the foamboard slightly and melds the two pieces together slightly.
Meanwhile I had a BIG decision to make, should I leave the bunnies colorful or should I paint them to unify them and make them a little more elegant looking. In the end they got a good coat of Oil Rubbed Bronze Spray Paint. I think it is their pink eyes that sealed their fate. I also painted the frame Oil Rubbed Bronze.
While my precious bunnies were drying I started glueing moss all over my foam "shelf". I know alot of people say to use spray adhesive with their moss projects but I think the moss starts shedding when I used it so I use my trusty glue gun and I know that moss is staying where it needs to stay!
This is the poem I used, and yes I wrote it, I can't believe I am posting that because I never feel comfortable sharing poems or songs that I write. I am pretending it is like a conversation that my two little bunnies are having. There are lots of springtime songs on the internet or you can use this one if you want.
Springtime is here, my dear, my dear,
Springtime has sprung this morning.
Springtime is here, the birdies I hear,
Winter had better take warning.
Springtime is here, warm weather is near,
I feel the sun's warm rays.
Springtime is here, my heart full of cheer,
To be enjoying springtime days.
Springtime is here, no need to fear,
Springtime has surely sprung.
Springtime is here, we've waited a year.
To hear the birdies songs sung.
Okay nobody thinks I am cheesy now right? Well don't tell me if you do! I printed this poem off on cardstock and inked the edges with a brown inkpad. I then hotglued it to the paper covered foam board. I think it is time for a little assembling. So I glued the foamboard shelf, now covered with moss) onto the picture frame. I held it in place while it got very sturdy and the glue hardened right up. Then I glued my little bunnies onto the shelf, I also glued their little backsides onto the foamboard in the picture frame so that helps support the shelf and bunnies!
I am so pleased with how this turned out! I am loving it! And it doesn't have to come down right after Easter, it can stay up througout spring. Which is nice since Easter is coming early this year!
Happy Spring!